Welcome to the Hyakka Ryouran:Samurai Girls Wiki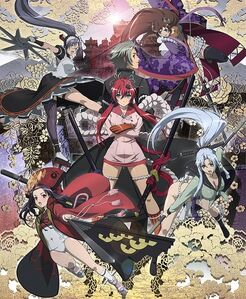 Hyakka Ryōran Samurai Girls (百花繚乱 SAMURAI GIRLS?) is a light novel series written by Akira Suzuki with illustrations by Niθ to commemorate Hobby Japan's 40th anniversary.
The series takes place in an alternate version of Japan called Great Japan, in an alternate timeline where the Tokugawa shogunate remained active and has remained isolated from the rest of the world. The main character of the series of Muneakira Yagyū, a young man attending Buou Academic School, a giant academy located at the base of Mount Fuji where people train to become samurai warriors.
His life takes a sudden turn when he meets Jūbei Yagyū, a mysterious girl who fell from the sky naked who later becomes his first "Master Samurai" after receiving their first kiss together.
Muneakira Yagyū is the leading man, and a samurai of noble spirit. A master of the Shinkage-ryu fighting style, his main concern is taking over the Yagyu Dojo, as the new Master.
Community content is available under
CC-BY-SA
unless otherwise noted.